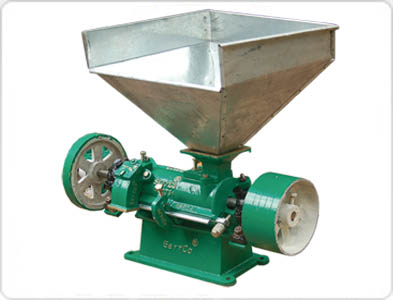 Settco Rice Huller Machine is manufactured from C. I. Graded Mild Steal Cast Iron.

This machine is use for processing of Rice, (Paddy to Rice). This is manufactured by assembling of several metal parts.

No Chemical or rubber product is used in this machine. So hygiene of processed food is good for health. Human body resistance capacity increases, if he takes this machine grain food.
Settco Brand Rice Huller Machine is suitable for small Miller and Farmers. Every gain of Rice processed by our Rice Huller machine, comes out in perfect shape and the smoothness retains its natural brilliance and delicate taste command a higher market value. This Rice Huller does not removes vital vitamin and protein from grains.
This machine is in different size and shape like No.2 , No.8, No.7, No.6, No.4 and No.5 only.
This machine is operated by power (Electric & Engine).
Nowadays in Modern Mill, the production of chiknai rice entirely depends on the friction of rubber roll. But significant heat is generated due to the friction of rubber and as a result valuable nutrients are lost from rice and causes different diseases.
Its effects will be far-reaching . But the fact is that in rice Huller, rice is generated by friction of iron only.So in the Rice Huller Rice , there is no chance of mixing of chemical compositions or foreign particles.